Chemical Injection Services
Reactor Resources has established the "standard in sulfiding" with the introduction of the first and only patented SmartSkid™ DMDS Injection System. The SmartSkid System was specifically created to inject Dimethyl Disulfide or Tertiary Butyl Polysulfide (TBPS) into your hydrotreating or hydrocracking unit as safely and accurately as possible.  Each SmartSkid is equipped with cloud-connected telemetry, allowing customers to constantly monitor flow rate, total quantity injected, pressure, temperature, and valve position via a secure web link.  With the SmartSkid System, you'll never have to wonder how our equipment is functioning, what the flow rates are, or how the H2S concentration is changing because you'll see it as it happens.
Other advantages of SmartSkid system are:
Remote Operation – In the event of a unit evacuation, the injection system can still be controlled remotely.  In addition, all of the pump operation parameters can still be viewed on the web.
Coriolis Mass Flow Meters – the most accurate and dependable meter available.
Empty Pipe Detector – Shuts off flow to the process once the delivery trailer is emptied, preventing cavitation of the feed pump.  
Materials – DMDS is a powerful solvent. All seats, trim and gaskets are specifically chosen to meet the rigorous demands of pumping this chemical.
Safe Line Breaks – We purge all lines and equipment with diesel at the completion of the job, ensuring that line breaks are not made with residual DMDS in the lines.
Further innovation from Reactor Resources includes our Online H2S Analyzer System that continuously measures the H2S content of the recycle gas.  This data is also displayed on our web link and eliminates the hazardous ritual of operations personnel donning SCBA to pull draeger tubes.  We also offer a Hydrogen Purity Analyzer that measures hydrogen concentration in real-time, again eliminating the exposure risk associated with sampling sour gas.
For help with the issue of non-decomposed mercaptans, we provide our Envirosulf™ Sulfiding Solution. This customized approach involves a thorough review of your sulfiding procedure along with a mix of sulfiding agents that are guaranteed to fully decompose at various startup conditions. A Dual Total Sulfur/H2S Analyzer is available to measure both H2S and non-decomposed mercaptans. Like our other analyzers, this data can be viewed in real time via the cloud.
Pictured below is an actual screen shot of the SmartSkid™ pump telemetry showing the flow through the two injection points.  Note that H2S level shown in the top left corner indicates breakthrough has occurred, signifying that the first sulfiding plateau is complete and the reactor temperature can be raised.  For more details on the process of catalyst sulfiding, go to our link at Sulfiding 101.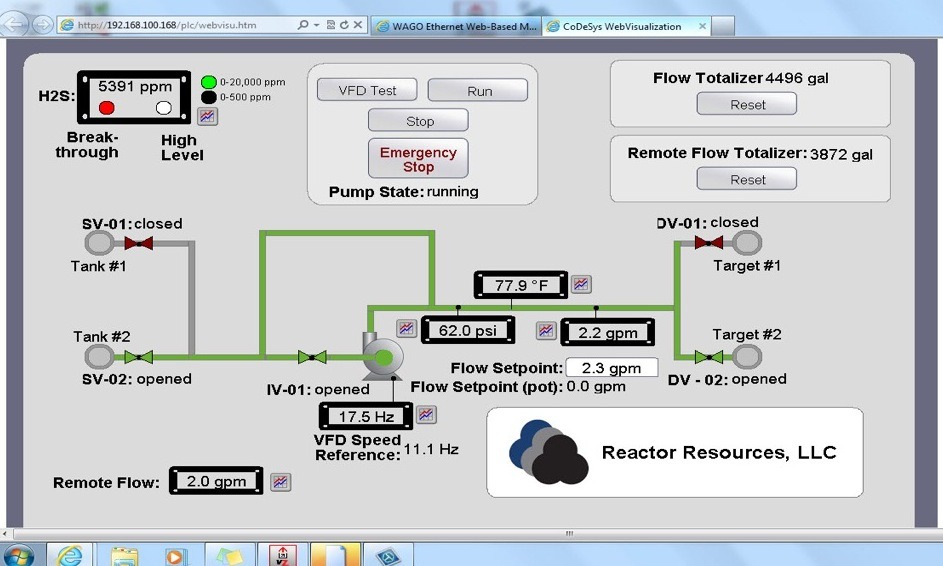 Other Chemicals
Reactor Resources also has experience injecting amines, rust scale elimination agents, ammonia, and dimethyl sulfide (DMS). Call us to discuss the specifics of your chemical injection application.
Contact Us to discuss how our system can minimize your sulfiding costs and startup time while improving operator safety.
Slideshow